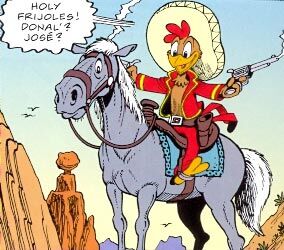 Panchito is best known for his appearance in Disney's Three Caballeros, but during the early development of his character he was first presented as a stuffed doll of a rooster that comes to life in a text story called "Pancho the Charro". Later he was more fully developed and along with a comic presentation of "The Three Caballeros" he also had a brief run in a daily comic strip where his horse Seno Martinez and a small supporting cast are introduced and a handful of comic book appearances.
His presence in the United States is extremely limited, but more recently he was revived as a semi-regular on the Disney animated series House of Mouse. Among his other appearances is the tale properly called "Panchito" where he meets and falls for Clara Cluck (WDC&S #38). Panchito is a tall, slender and energetic gun-toting, wise-cracking crooner of a Mexican rooster. In the film he basically explodes from a present given to Donald Duck on his birthday. From there Panchito leads Donald and Jose Carioca in an exuberant song which extols the kinship between the three birds. His presence is wild and unrestrained. He ends his visit by presenting Donald with a pinata which Donald is encouraged to break while blindfolded. Of course Panchito doesn't make it very easy for Donald to do, causing him confusion, frustration. Finally he gives Donald and Jose a magic serape (carpet) ride to tour Mexico then disappears in a barrage of confetti and color. His memorable explosion into Disney animation should not have ended as abruptly as it began, unlike Jose and the Aracuan who went on to appear in several more cartoons, while Panchito waned in cartoon limbo until he was revived for a cartoon reunion with Donald and Jose in the House of Mouse episode "The Three Caballeros". Panchito and Jose appeared several more times on the series, most notably in an episode "Goofy no More" where Panchito sings about his long name.
In comics, however, Panchito and Jose come to Duckburg for a reunion with Donald in "The Three Caballeros [Return]" (WDC&S #50), but they end up causing poor Donald nothing but grief. Panchito is quite popular in Europe and has appeared in numerous comic book stories where he is often the headliner. Clara Cluck is still Panchito's girlfriend in European Disney comics where she is also called Chiquita.
Appearances
Cover Cameos
Community content is available under
CC-BY-SA
unless otherwise noted.