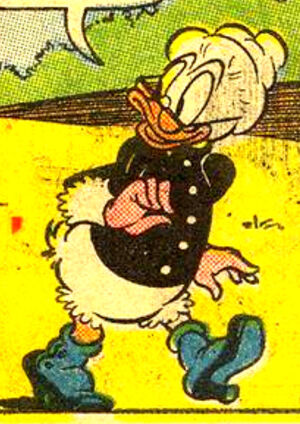 Grandma Duck is a Disney Comics character.
About Grandma
Elvira Coot was born about 1855, probably in Duckburg, the oldest of two siblings. She was sometime around 1873-1875 married to Humperdink Duck. They lived at a farm outside Duckburg. Together they had three children, Quackmore, Daphne and Either. They used to be called Mother and Father Duck, later that changed, of natural causes, to Grandma and Grandpa Duck.
Some time after Scrooge McDuck first appeared in Duckburg in 1902 she sold him most of her land except for the farm.
At some point after 1920 her husband Humperdink died and left her a widow. After that she ran the farm by herself. At some point her brother Casey's daughter's son Gus Goose started to "help" her at the farm.
Grandma Duck is in many ways the head of the Duck family. She is normally the one who arranges the family's Christmas celebrations and she's known as an excellent cook with pies as one of many specialties.
Appearances
Cover Cameos
Community content is available under
CC-BY-SA
unless otherwise noted.