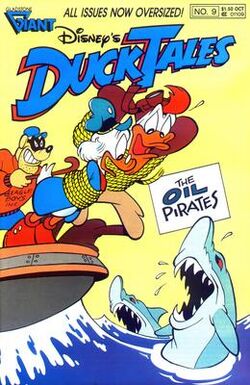 DuckTales comic books are series spun off from the television show of the same name.
There have been three series of DuckTales comic books. The first series was published by Gladstone Publishing and ran for thirteen issues from 1988 to 1990, and the second series was published by Disney Comics, Inc. and ran for eighteen issues from 1990 to 1991. Boom! Studios published a third series of six issues in 2011.
Disney also published a children's magazine based on the show, which also featured comic stories, one of which was the only story written by Don Rosa without any illustrations. Subsequent comic stories were also printed in the magazine Disney Adventures from 1990 to 1996, and in Uncle Scrooge 392-399.
Reprint Collections
On May 24 and July 19, 2006, Gemstone published a two-volume trade paperback, Carl Barks's Greatest Ducktales Stories. The trades contain reprints of stories written by Carl Barks which were specifically adapted into television episodes of DuckTales.
Both volumes start out with an introduction and compare the original comic story with its Ducktales episode counterpart. Volume 1 also includes a two page article delving into details on the adapting the show from the comic series.
In August 29, 2007, Disney released a trade paperback of Scrooge's Quest. The TPB reprints the first seven issues of the Ducktales comic series. They also published The Gold Odyssey which was reprinted from Duck Tales #s 9-15.
Characters
List of characters in DuckTales
Comic Books
| | | |
| --- | --- | --- |
| | | The Gold Odyssey (Trade Paper Back) |
Community content is available under
CC-BY-SA
unless otherwise noted.