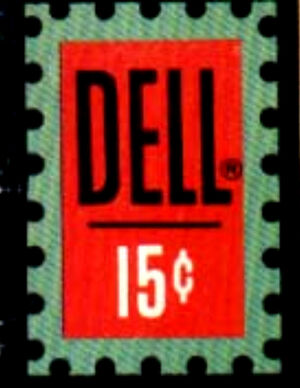 Dell Comics was the comic book publishing arm of Dell Publishing, which got its start in pulp magazines. It published comics from 1929 to 1973. At its peak, it was the most prominent and successful American company in the medium.
Its first title was The Funnies which was the first comic book to feature original material, but since it was published in the tabloid format as opposed to the standard one, it is normally not recognized as such.
The company formed a partnership in 1938 with Western Publishing, in which Dell would finance and distribute publications that Western would produce. While this diverged from the regular practice in the medium of one company handling finance and production and outsourcing distribution, it was a highly successful enterprise with titles selling in the millions.
From 1939 to 1962, Dell's most notable and prolific title was the anthology Dell Four-Color Comics. Published several times a month, the title (which primarily consisted of standalone issues featuring various licensed properties) saw more than 1,300 issues published in its 23-year history. It often served as a try-out title (much like DC's Showcase) and thus the launching pad for many long-running series.
Dell Comics finally ceased publication in 1973, with a few of its former titles moving to the Western Publishing imprint Gold Key Comics.
Community content is available under
CC-BY-SA
unless otherwise noted.