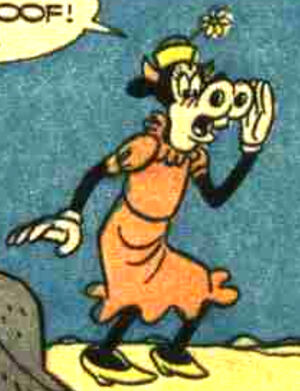 Clarabelle Cow was one of Minnie Mouse's best friends. In their youth they were constant companions.
A cow with all the hallmarks of Clarabelle, including her enormous multi-studded utter, appeared in a pre-Mickey Mouse Disney film called "Alice on the Farm" (from Disney's "Alice Comedies" series) was perhaps Clarabelle's earliest appearance in film. Her role involved an early Ub Iwerks gag where Julius the Cat tries to get milk. A gag that would be repeated in several times in Clarabelle's earliest Mickey Mouse cartoons, when she was known as Carolyn Cow. Both Clarabelle and Horace Horsecollar had an uncanny ability to change from somewhat normal farmyard animals into anthropomorphized beings as necessary.
Apparently, Clarabelle was given a skirt originally to give a modicum of modesty to the rubbery bovine, serving to hide her enormous appendage. Clarabelle and Horace have been engaged since 1931. Clarabelle also has a young cousin, Bertie the Jinx, a niece, Itsy-Betsy, and a socialite aunt named Miss Bovina, who have appeared in several issues of "Walt Disney's Comics and Stories." For a brief time, during the late 1960s, Clarabelle began dating Goofy, perhaps in an attempt to give Goofy a girlfriend. During this time Horace's whereabouts are unknown. Toward the end of this time Clarabelle's status with Goofy was challenged by another gal named Glory-Bee, and Clarabelle seems to have returned to her former paramour, Horace.
Appearances
Cover Cameos