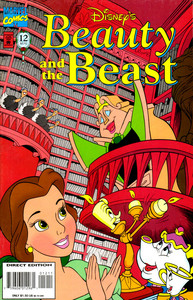 Beauty and the Beast is a Disney comic title. Marvel Comics published a total of thirteen issues in 1994 and 1995. The series featured original comic stories starring the characters from the popular Disney animated feature film. Some stories were continuous stories spread over several issues. The last two pages of each issue was dedicated to a letters column titled 'Beautiful & Beastly Mail'.
Country: United States
Publisher: Marvel Comics
Format: 17 x 25.5 cm / 32 pages
Status: Cancelled: 1994 to 1995
Issues: 13
Frequency: Monthly
Community content is available under
CC-BY-SA
unless otherwise noted.