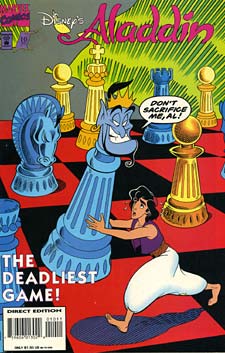 Aladdin is a comic book series published by Marvel Comics. A total of eleven issues were published in 1994 and 1995. The series featured original stories starring characters from Disney's animated feature film. The last two pages of each issue contained a section titled 'If I Had 3 Wishes...' and featured letters from readers.
Country: United States
Publisher: Marvel Comics
Format: 17 x 25.5 cm / 32 pages
Status: Cancelled: 1994 to 1995
Issues: 11
Frequency: Monthly
Community content is available under
CC-BY-SA
unless otherwise noted.